Course details
【Frozen Wagyu Beef / Midgetted Pork Shabu Shabu / Charcoal Grilled Chicken + Skewer Deep-fried 120 mins All-you-can-eat plan】 "All you can drink" 3980 yen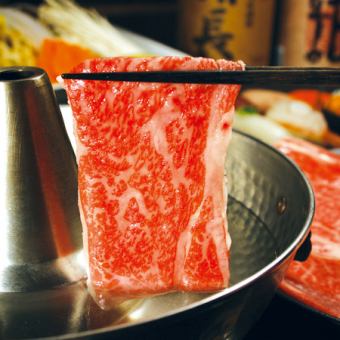 By using a coupon3980 yen
Before Kim ryugaku · 12/26 ~ 12/30 is 4,200 yen
All-you-can-drink available

All-you-can-eat menu of more than 80 kinds! 【With draft beer at + 300 yen / draft beer, local sake, ground distilled spirit, carefully selected plum wine with + 500 yen】
Reservation deadline

Two days before 21 o'clock on the desired shopping day
Available days for reservation

Monday - Sunday - Public holidays - Holidays
All you can eat shabu-shabu of Hokkaido brand "Shiraoi" meat of frozen meat and hoof pig (* Tokachi beef etc. daily specialized swine), various kinds of yakitori broiled with charcoal fire, all-you-can-eat skewers! .
Course menu
◆ Shabu shabu of marbled Japanese beef and pork (all you can eat)
◎ Shiraoi cow brisket from Hokkaido
◎ Hokkaido pork loin * Producing area is preliminary with daily change.
◎ soup
· Kelp soup stock (classic juice rich in flavor)
· Concentrated chicken white water (exquisite juice thoroughly fired)
◎ Thale
· Ponzu / Sesame seeds
◆ Dead of carefully selected pig shabu (all you can eat)
◎ Udon / Ramen
◆ Charcoal-grilled yakitori all 21 species (all you can eat)
◎ Ornith (salt / sauce / leek salt)
◎ Cessation (salt / sauce / leek salt)
◎ Hinaki (salt / sauce / Negishi salt)
◎ Sand liver (salt / sauce / leek salt)
◎ Swine test (salt / sauce / leek salt)
◎ Ponchochi (salt / sauce / leek salt)
◎ Tsukune (salt / sauce / leek salt)
◆ Kushi fried all 10 species (all you can eat)
◎ Cow Cutlet / Pork cutlet
/ Ham cut / Wynner
◎ Shrimp / scallops / salmon
◎ lotus root / onion / sweet potato
All-you-can-drink menu
· Strong carbonated highball
· 【Please enjoy strong carbonation pouring from a dedicated server!】 High Bowl / Apple High Ball / Summer Making High Ball / Calpis High Ball / Lamune High Ball
· Whiskey / Highball
· Whiskey (Rock / Water split) / Ginger High Ball / Cork High Ball
· Strong carbonated sour
· 【Please enjoy strong carbonation pouring from a dedicated server!】 Lemon Sour / Lime Sour / Rhamnesaw / Calpis Sour
· Shochu / split
· Shochu oolong tea / Chuku tea / Jusmin tea / Shochu lemon / Shime lime / Sho grapefruit / Sho calpis
· Strong carbonated mojito
· 【Enjoy strong carbonation pouring from a dedicated server!】 Mojito / Ichigo mojito / Hakomi mojito / Grapefruit mojito / Ramune mojito / Cassis mojito
·Cocktail
· Kuyanyan / fuzzy navel / peach grape / cassis soda / cassis orange / cassis grape / cassis oolong / lychee orange / litch grape / kitty / keel / operator / cala cok etc.
· Milk cocktail
· Calamiruku / caramel mocha milk / strawberry milk / cassis milk
·Sake
· Today's sake (cold) / Sake of the day (Atsukan)
·wine
· Today's glass wine red / Today's glass wine white
·Fruit wine
· Plum wine / apple sake / white peach liquor / litchi liquor / strawberry liquor / pear liquor * You can choose from rock · water split · hot water split · soda crack · ginger ale split.
·Soft drink
Oolong tea / green tea / Jasmine tea / orange / grapefruit / Calpis / ginger ale / coca cola / ramune
· ■ + 300 yen
· Suntory The Mortz Barrels
· ■ + 500 yen
· Suntory The Mortz Barrel / Country Rare Kita Oni Rolling Kit (Hair Extension / + 10 degrees) / Tengu Dobukuro (Makeup / + 10 degrees) / Black Kirishima (Miyazaki / Potoshinchu) / Kokoro Sword (Oita / Wheat Shochu) / fortigantan (white bran / shisochu) / plum wine of fortay tan (white bran / shiso plum wine)
Coupons that can be used with this course
2018/12/09 update